Creep Testing Machines - For Metal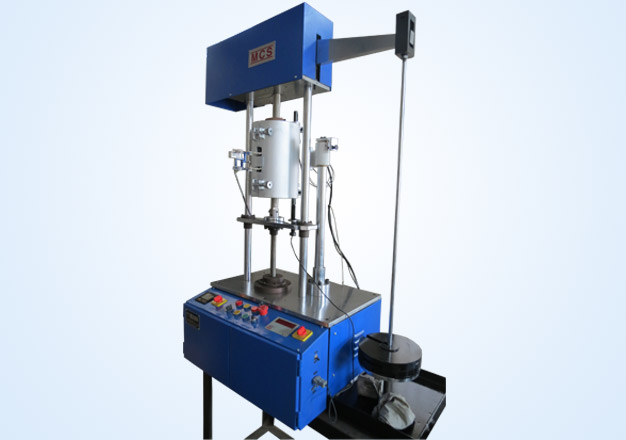 Creep and Stress Rupture : MCS has developed Creep and Rupture testing machine using state of the art technology. It combines high accuracy with long time reliability, essential qualities for modern day creep and stress rupture testing.
Constructed for the discerning user, particularly those who appreciate the value of testing individual specimens, the model CP has a choice of load capacities: 50, 30, 20 and 10 kN. The MCS-CP machine has four chromium plated steel columns and substantial upper and lower crossheads.
The load frame is supported by a completely enclosed robust base unit which has four corner leveling feet and a protective fabricated top cover. The upper crosshead carries the lever assembly which includes a lockable counterbalance weight. There are hardened knife-edges at all fulcrums. By means of this lever arrangement, slotted incremental weights, carried by a weight pan/rod assembly, apply load through the test specimen. CP-50 uses double lever and other capacity machine uses single lever arrangement.
Accurate axial loading of the specimen is ensured by a co-planar knife-edged coupling, located at each end of the loading string. The loading string and furnace are aligned to the centre of the two front columns. The three-zone closed cylindrical furnace is attached to the front columns of the load frame by two pairs of guide blocks and has an integral counterweight mechanism which considerably eases the raising and lowering operation. When the furnace is raised there is complete accessibility for specimen replacement and extensometer/thermocouple attachment. The furnace can be supported in any position by a lockable clamp.
Applications :
Creep testing at elevated temperatures
Stress to rupture
Stress relaxation
Constant load test in compression
Drive Systems :
The correct load is applied to the specimen when the lever is in the horizontal position. To reposition the lever manually, the loading string can be raised or lowered by rotating the chromium plated capstan hand wheel at the rear of the base unit. Through a 20:1 ratio worm gearbox and drive shaft, the lead screw connected to the lower loading bar can be adjusted up to its full travel of 100 mm. how ever, automatic lever leveling is highly recommended.

An opposing pair of optical switches fixed to the lever detects movement of the lever from the horizontal plane, and then activates an electric motor which drives the lead screw to correct the position of the lever in the event of furnace failure, the automatic lever leveling system will maintain the correct test load on the specimen as the furnace cools down. The drive system includes, over travel trips and an anti-torque bar assembly which prevents any torsional loading of the specimen during lever repositioning.

The CP machine lever calibrates to IS 1828-2005, Class I. This machine is designed for the laboratory requiring a large number of test points within a limited floor area. It is compact yet versatile in its operation and requires no special foundations. Shock absorbers prevent vibrations being transmitted to other loading strings when a specimen failure occurs. In the event of a power or furnace failure, the system fails safe. A small cabinet contains the three-zone temperature controller , elapsed time meters and transducer conditioning modules, if extensometers are supplied.

Closed Loop Servo Control :
MCS offers an electronic creep testing machine with full closed-loop servo-control in three capacities: 10, 20 and 30 kN. Creep, stress relaxation, slow strain rate and constant stress tests (assuming constant volume change in the test specimen) are performed automatically under extremely accurate closed-loop control.
The drive system comprises a AC Sevo motor with toothed belt and gearbox to the recirculating ballscrew actuator. A backlash-free, anti-torque bar and a pneumatically operated mains failure protection device are incorporated as standard. Load cells, electronic extensometers, furnace, temperature controllers, elapsed time meters and loading bars are identical to those available for the CP series, described earlier in this brochure.

Creep Laboratory Management Systesm :
MCS can provide a fully computerized supervision, monitoring and data logging system for both mechanical and electronic creep machines. This CLMS is designed to monitor up to 120 individual machines or test points on a minute by minute basis

A complete laboratory status display keeps
The supervisor constantly up to date with exactly what is happening at each test point. Errors and warnings are audible and visual, and are shown on the computer screen as well as recorded on a printout. Using the in-built databases of available equipment including : test point type, weights, furnaces, thermocouples and HTD extensometer for varied hot tensile specimens , displacement transducers, it will select the optimum configuration for your test.
Logarithmic logging of data keeps files manageable, with the last 24 hours logged in 15 minute intervals. All test results can be viewed in both tabular and graphical formats. CLMS includes full file management facilities enabling password protection, copying, deleting or exporting in spreadsheet format.

Extensometry :
MCS manufactures highly sensitive and accurate electronic extensometer which is mounted axially on the test specimen. They are suitable for attachment to plain and round test specimens and are of twin transducer design.
Temperature Control :
Temperature is controlled directly from a thermocouple on the test specimen. The three-zone controllers incorporate microprocessor based PID instruments which give three-term control and digital display. Proportional band, integral and derivative time constants, cut back and heat power limit are standard features.