Brinell Hardness Testers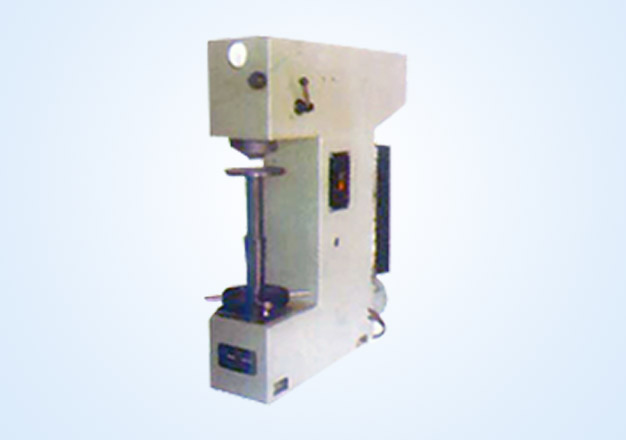 We are Manufacturer Supplier Exporter of Computerized / Fully Automatic / Touch Screen Brinell Hardness Testers, BHN Hardness Testing Machines from Kolhapur Maharashtra India. We are NABL Calibrator and provide Upgradation, Calibration Services also.

Machine designed with a hydraulic power pack and control circuit for effortless loading unloading operation A dial gauge in front measure depth of ball penetration. provides production testing within tolerance limits by compression method.

MCS Make Hardness Tester
Model B-3000 (H)
Confirms to IS : 22281 – 1968, BS : 240 and ASTM : E 10
These machines are designed to measure hardness of castings, forgings, other metals and alloys of all kinds, hard or soft, whether flat, round or irregular in shape.
| | |
| --- | --- |
| Technical Data : | |
| Model | B - 3000 [H] |
| Loads - kgf | 250 to 3000 in stages of 250 |
| Initial Load - kgf | 250 |
| Max. test height - mm | 410 |
| Dept of throat - mm | 200 |
| max. depth of elevating screw below base ( approx. ) - mm | 180 |
| Machine height ( approx ) - mm | 1127 |
| Net Wight ( approx ) - kg. | 450 |
| Drive motor -  HP | 0.33 |
| mains supply - V/cy/ph | 415 / 50 / 3 |
| Optical Device | Nil |
| | |
| --- | --- |
| Standard Accessories : | |
| Model | B - 3000 [H] |
| Testing Table 200mm dia | 1 pc. |
| Testing table 70mm dia with 'V' groove for round jobs 10 to 80mm dia. | 1 pc. |
| Ball holder 5mm | 1 pc. |
| Ball holder 10mm | 1 pc. |
| Test Block HB-5/750 | 1 pc. |
| Test Block HB-10/3000 | 1 pc. |
| Brinell Microscope | 7 pcs. |
| Allen Spanner | 1 Set |
| Telescopic Cover for elevating screw protection. | 1 Book |
| Instruction manual | Nil |